The Western Student Association executive candidates concluded the campaign period with a presidential debate on Wednesday, March 16 in the lobby of the Bernhard Center. Presidential candidates Eric Effinger and Cheng Kidd Sun answered questions from the audience about everything from conversations with the administration to burnout.
Effinger, a third-year aviation science and aviation management student, is running as vice-presidential nominee Elisha Ewing. He served at the WSA as an Aviation Student Council Representative, Aviation College Senator, and later Vice President of Finance and Business. He is currently vice president of the student body.
Sun is a senior dual major in political science and global and international studies alongside vice-presidential candidate Alex Lawrence. He is currently Vice Chairman of the WSA Allocations Commission.
The two candidates pointed to a mission to remove the concerns of the students. Sun noted the emphasis on engaging non-traditional students like himself after working to increase accessibility in the award process this year.
"I actually noticed that the assignment process is not accessible to students," Sun said.
He continued: "It's so difficult for international students, or even cultural RSOs, who don't even know about the stipend commission."
Sun explained that increasing transparency throughout the WSA would better connect the organization to the general student body.
Effinger highlighted his own efforts to support non-traditional students, including an Affinity Month recognition bill, financial support for multicultural groups, and a commencement opportunity.
"II also started conversations with the administration about how we can better represent international students at the start. said Effinger. "We know this could be the only time in their WMU career that their family is here to see them and provide them with the opportunity to potentially carry their nation's flag at the opening ceremony. is a great way to recognize these students and their achievements in college.
The candidates also considered the faculty's vote of no confidence in WMU President Edward Montgomery by the American Association of University Teachers at WMU, but were reluctant to take sides on the issue.
"I'm not a faculty member, I don't know the challenges they faced." said Effinger. "I supported the teachers' union… but on the results of the votes, I don't really have an opinion."
Effinger explained that instead of focusing on the lack of trust, WSA has the ability to invite Montgomery to engage directly with students at meetings and campus events to improve the situation.
"WSA's job is not to yell at management," Effinger said. "The important thing is that we are able to maintain a working relationship to ensure students get what they need."
Sun agreed that as a student he had no basis to comment on the vote of no confidence. However, he echoed Effinger that better engagement with the administrator is the solution.
"We will be holding forums and discussion panels," Sun said. "We will include administrators there, ensuring that they are held accountable."
Sun has said it plans to set up WSA "task forces" to address this issue and get students and administrators on the same page.
Effinger drew on his experience in the WSA to express a lack of confidence in Sun's task force plan.
"The administration told the president's cabinet last year that you had to choose your two or three things you had to do," Effinger said. "30 things are not achievable".
He continued, "Just being able to sit down and talk one-on-one with the administration has often proven to be much better results in holding them accountable for their decisions than having these mega committees."
Sun defended the working groups, noting that they would be oriented to the big issues.
"If you're not ambitious, there's no point running for president," Sun said.
He continued, "I think by including all students and all voices, technically you have a more inclusive approach instead of an individual approach which is more effective."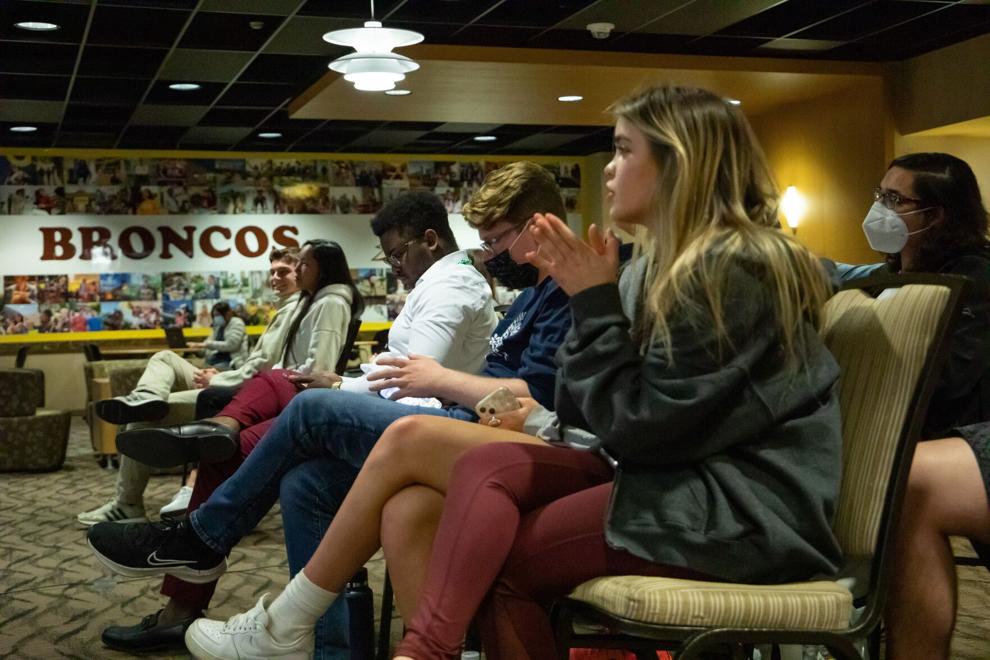 Members of the public posed questions to Effinger concerned about his behavior.
"I know there's a perception out there of me that I can sometimes be tough and sometimes uncharismatic, but hopefully that's a misconception," Effinger said. "Finding ways to sit one-on-one with people and listen to them is going to be critical and crucial for me going forward. I believe that every student has a voice to hear, whether we are d agreement or not.
Both graduate students, the audience asked the contestants how they plan to avoid burnout with increasing responsibilities.
"Burnout is what really drives me," Sun said. "Moving forward, I will definitely create a more sustainable process… I will make sure to go to therapy sessions if needed, I also prioritize my mental health."
Effinger credited intentional time for himself and yoga for his story of avoiding burnout while working at WSA and being a full-time student.
"I managed to maintain my 4.0 gpa and not let wsa consume me," Effinger said.
He continued: "I think one really important thing that I've learned over the years and through these progressive stages and going through leadership positions is how to step back and reset when I have it. need."
As this year's election approaches, candidates recall the tensions between the lists in years past.
"I've always been afraid of receiving demerits from the opposing team," Sun said.
Effinger echoed a concern for demerits.
"I was also concerned about the demerits because I know both of our campaigns are very detail-oriented," Effinger said. "I was talking to Alex and he told me he counted the number of posters we had in Sangren and I know we counted yours, so it's a mutual thing."
Effinger stressed his hope for a clean election.
"No demerits have been submitted to my knowledge by any slate and we would like that to continue," Effinger said.
Find Effinger's slate on Instagram @WMU.123 and Sun's @OurWMU. Elections open to all students begin Monday, March 21 and end Friday, March 25 on Experience WMU.